We are having a birthday party next weekend, so it's a good time for snacky-junky foods to be on sale!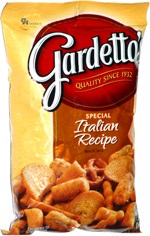 Carr's currently has Gardettos on sale for 2.89 and b1g1 at that, and I happened to have three .50 e-coupons loaded onto my card from both cellfire and shortcuts, plus the .50 printable, so I bought two bags for .89!
Same deal with the Chex Mix. On sale for 3.19 and b1g1, had four .50 e-coupons, and a printable .50 coupon, so these were two for .69!
Most of these e-coupons expire on the 18th.
The other great deal at Carr's is the Cottonelle bath tissue! There is a Carr's coupon in their weekly ad for 5.99 for the 12 pack/double roll. There should be a blinky machine with 2.00/1 coupons right in front of the product making it 3.99. When you buy two, you get a catalina for 2.00 off your next shopping order, so this equals out to 2.99 for 12 double rolls of paper!